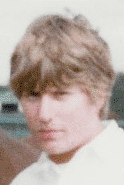 JAMES MARK JEFFERSON
August 8, 1962-April 15, 1991
Baseball, horses, and deep-sea fishing were important parts of Mark's life. When he was six years old, he knew the batting average of every player in Major League Baseball. His favorite team was the Chicago Cubs and Ernie Banks was his favorite player. He watched the Cubs play at Wrigley Field for the two years we lived in Chicago (1969-1970).
The horses took over when Mark was in his teens. He studied the bloodlines of champions and wanted to own a Harness Horse to race. We bought a mare in foal and when the colt was born, we named him Hungry Jack. He was to be the first of many horses in our eight year experience with harness racing. Mark was the manager—advising us which races to put the horses in, which trainers and drivers to use, and when we went to the auctions in Harrisburg, PA, the New Jersey Meadowlands, and Lexington, KY, Mark was the one who told us which horse was the best buy. He never picked a loser.
By the time Mark was in his twenties, deep-sea fishing had replaced the horses and he traveled to Panama, Costa Rica, Ecuador, Mexico, and both coasts of the United States to fish. One of his most memorable moments was at Club Pacifico on the island of Coiba, off the coast of Panama. He caught a 485 lb. Black Marlin on a 50 pound test line after a battle that lasted almost three hours. He especially loved Tropic Star Lodge in Pinas Bay, Panama. It was a stunning place on the edge of the Darien Rain Forest where orchids grew wild and colorful birds and big snakes inhabited the forest around the lodge. In one week at Tropic Star, he caught 14 Black Marlin and released them all except for one that died and went for food to the village in Pinas Bay.
His greatest concern was always the environment—preservation of the oceans, the rainforests, the earth and the wildlife they support. Mark is buried on the grounds of the Tropic Star Lodge. His bronze memorial reads: "Mark Jefferson, First Class Fisherman and Friend of the Planet Earth."